There are few road trips as iconic as Route 66, and every year thousands of people take to the Mother Road to get a taste of this wonderful slice of history and US culture. However, just because so many people visit it doesn't mean that all holidays here are the same – there's plenty of scope to really make the trip your own. One way of doing this is by following in the footsteps of major TV shows along the way.
Below, I'll give you an overview of some of the biggest series to have been filmed at various destinations along Route 66. Meanwhile, you can find out more about how to organise your tour by visiting this website, which has lots of useful information on the cities that Route 66 passes through, not to mention your options for vehicle hire. Opting for an organised tour through a specialist company like this is really handy if you want to be confident in the overall structure of your break, so don't worry that you'll need to organise all the finer details yourself just because you're opting for a road trip.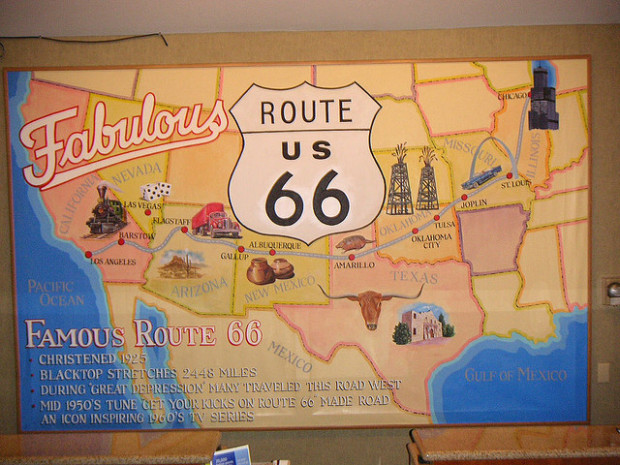 Albuquerque – Breaking Bad
Breaking Bad is a show that's hit the headlines time and time again over the last few months, with its finale having only recently aired. I'll avoid talking about the plot too much in case you're in the process of desparately trying to catch up with the series before you hear any spoilers (in which case I wish you the best of luck!), but I will just clue you into its premise for those of you who are entirely new to the show.
Breaking Bad tells the story of a science teacher, Walter White, who has been diagnosed with lung cancer. Fearing that he'll leave his family financially destitute when he dies, he comes up with a plan to secure their future: cooking crystal meth with Jesse, his former school student. If you haven't already, it's well worth watching the series in full before you set off – not only because it's amazing, but also because you can actually take a tour of its filming locations.
A firm called ABQ Trolley Co offers tours around the top Breaking Bad sites, including Downtown, Central Avenue and even Route 66 itself. Really, the more recently you've seen the series before going on this tour the better, since it'll be easy to pick out which scenes happened where. The tour lasts around three-and-a-half hours in total, you need to book your place in advance.
Sons of Anarchy – California
As you reach the end of your road trip down Route 66 you'll come to California, which is the location of another TV series – Sons of Anarchy. Now, this show is actually still running and is now in its sixth series – though it is rumoured that series seven will be its last hurrah on the small screen. There are almost too many filming locations to list, but they include South Mission Road in Los Angeles and Lankershire Boulevard in North Hollywood, so it's worth doing a little research before you arrive to work out where exactly you want to go.
In case you're not familiar with the series, it follows an outlaw motorcycle gang that operates in a fictional town (Charming) in California's Central Valley. Vice-president of the club Jax is very much the focus of the series, with the character beginning to question the club, as well as his own lifestyle.