Given its stunning Alpine peaks and tranquil clear blue lakes, Austria is truly the epitome of idyllic beauty. Nestled right at the heart of Europe, the forlornly beautiful country of Austria is where you can take the arguably most breathtaking train journey around the Alps. This alpine country is most known for its majestic mountainous landscapes and picturesque Baroque architecture, which are the remnants of its imperial past.
If you plan to book a vacation package to Austria, there is no better time than now! In this guide, we will have a run-through of the best places to visit as well as essential tips and travel hacks you must know for you to make the most out of your trip to Austria. 
Tips, Travel Hacks, and Essential Information You Need To Know
If this is your first time traveling to Austria, here are the things you must know to ensure a hitch-free journey.
1. Always make reservations at restaurants
The golden rule in Austria is that you won't be seated in most restaurants without a prior reservation. It is necessary to call the restaurant ahead of time to make reservations, as there are usually no reservation systems online. Also, take note that people in Austria consider lunch as the main meal of the day and not dinner. Hence, it is the busiest time in restaurants. If you plan to dine somewhere—especially during lunchtime—be sure to schedule it with the restaurant ahead of time to reserve a seat.
As for the tipping system in Austria, it is customary to tip 10%, but only if you are satisfied with the food and service.
2. Make sure you have enough funds to afford the expensive cost of living in Austria
Ensure you have adequate funds allotted for your trip along with some extra cash for emergencies because Austria consistently ranks in the top 10 in the list of most expensive countries to visit in the world. It is ahead of Germany, Hong Kong, and even Iceland. The goods and services here are even 10% more expensive than in the US. For instance, the average nightly cost for a hotel room for two in Austria is around 110 EUR (93.50 GBP or 127 USD), and the average price for lunch in considerably affordable restaurants is already 18 EUR (15.30 GBP or 20 USD). Moreover, the admissions to museums, castles, and other attractions are also relatively expensive, so keep this in mind before you pay a visit. 
3. You can drink tap water in Austria
Unlike in other countries where you have to buy bottled drinking water all the time just to prevent traveler's diarrhea when you're in Austria, you can drink the water straight from the tap. This is because Austria's water supply is hailed as the top 5 safest drinking water in the world. So, if you are thirsty, you can safely drink water from the faucet unless you see a sign that reads "Kein Trinkwasser" (no drinking water). 
4. Exchange money in banks for less conversion fees
Austria uses the euro (€) as their currency. If you only brought dollars, you can exchange it at the bank or in exchange bureaus. It would be best to opt for bank conversions because banks charge less commission than exchange bureaus. Banks are open from Monday to Friday, 8:00 AM to 12.30 PM and 1:30 to 3 PM; 
5. Shops in Austria have a weekly Ruhetag 
In Austria, they implement "Ruhetag," which translates to "day of rest" or "quiet day." This means that most shops are closed on Sundays.
As for the opening hours, most shops are open all day from Monday to Saturday. But if you are in the suburbs, shops close at noon during lunchtime and on Saturday afternoons. 
On public holidays, most shops and banks are closed, and most museums have reduced hours. 
6. Most Austrians can speak and understand English
German is the official language of Austria. In addition, people also speak Austrian German, Hungarian, and Slovenian. Most Austrians also speak and understand English, so you won't always have to use Google Translate in every conversation. However, it will still be nice to know some basic German phrases that you can use in small talk, such as:
Hello (Hello)

Danke (Thank you)

Guten morgan (Good morning)

Wie geht es dir? (How are you?)
7. It is best to travel by car
If you plan to stay in the big cities for the duration of your trip—which we don't recommend, by the way—traveling via public transportation is a good idea.  However, if you plan to explore the breathtaking views of the mountains and countryside, renting a car is the best way to make the most out of Austria. After all, the most beautiful places here are in the countryside and mountainous areas. 
When driving, note that you drive on the right side of the road here in Austria. You would also have to pay 8 to 10 euros for stickers that are needed for you to drive in Austria. If you have an international driving pass, you must carry it at all times. 
8. Include hiking in your must-try activities in Austria
Austria has one of the best hiking trails in Europe. If you have seen the Sound of Music, you must go to Austria to hike at least once in your lifetime. There are countless breathtaking trails across the whole country for you to choose from, but it is recommended to try the Grossglockner, Dachstein, Zell am See-Kaprun and Hallstatt trails.
9. Austria is among the safest countries in the world
Austria is generally an incredibly safe country. In fact, it is ranked as one of the top 5 safest countries in the world, so your mind can be at ease while traveling here. If you are a female solo traveler, you would be delighted to know that you can walk alone in small cities, parks, and even the woods, and no one would bother you. Although, of course, you have to watch your important belongings as there are some instances of pickpocketing in crowded areas or known tourist attractions. 
In any case, memorize these emergency numbers so that you can contact the authorities in case you ever find yourself in an emergency situation:
General emergencies in the EU: 112

Ambulance: 144

Police: 133

Fire brigade: 122
Must-See Tourist Spots in Austria
Austria is full of exciting places to visit—from bustling chic cities to quaint little towns, impressive city landscapes to idyllic natural hiking trails and majestic mountains; you will never run out of breathtaking sights to be in awe of. If you have limited time for your trip, ensure the following tourist spots are in your itinerary. 
Vienna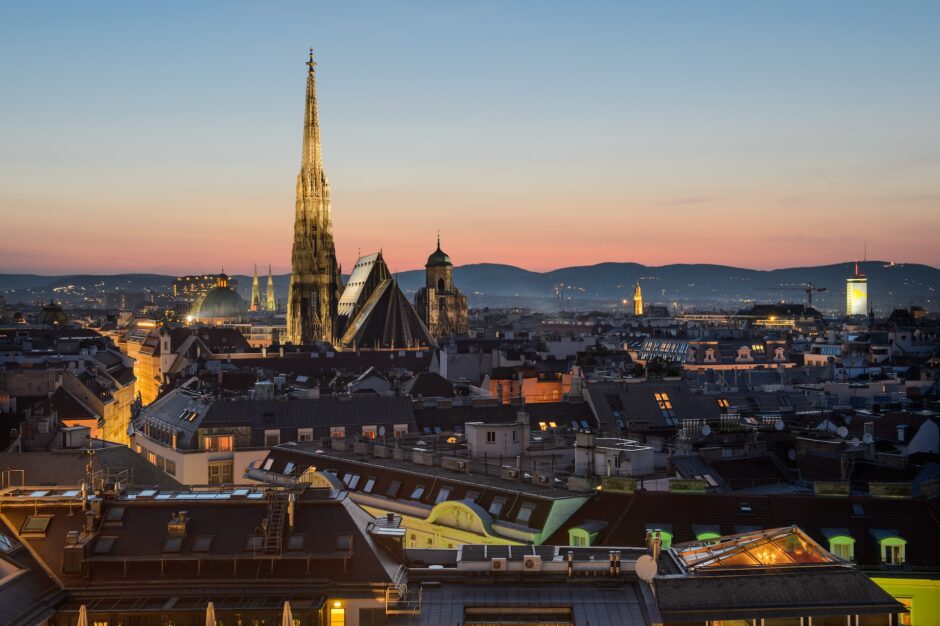 You can never go wrong with exploring Austria's capital and largest city—Vienna. But beware because the city's vibrant music scene and world-famous apple strudels will undoubtedly get you hooked.  
When in Vienna, make sure to visit one of its significant landmarks—the Schönbrunn Palace, which served as the former residence of the emperors. Take the time to appreciate its intricate interiors, well-manicured gardens, and lavishly decorated halls that the former emperors used to roam. Also worth noting is the Belvedere Palace, which houses Austria's most prestigious works of art, dating as far back as the Middle Ages.
The Blue Danube—the second longest river in Europe—also flows through Vienna, so don't pass up the chance to go on a boat tour that will take you to the historical and modern parts of the city. Here, you'll sail past historical buildings, such as the Donauturm, Uniqa Tower, and the Ringturm.
Salzburg
For a breathtaking view of the Alps, the beautiful city of Salzburg should be one of your top choices. Not to be taken only at face value, this historic city also has a long history of serving as the religious center ever since the early days of Christianity's reign in Europe. Not only did it serve as the primary residence of the prince-bishops, Salzburg was also the hub of the greatest artists and architects at the time. They built churches, residences, and monasteries that still stand today as tourist attractions.
It is highly recommended for you to buy a Salzburg Card, which gives you free access to all the museums in the city and its surroundings. You will also get to use public transport for free, including the famous Untersberg cable car and the impressive Panorama City Tour boat trip. The card will also entitle you to discounts on various activities, such as concerts and theater performances. 
But if you want a laid-back trip to just appreciate the surroundings, it is best to walk the medieval streets and arcade courtyards of Salzburg's quaint, romantic towns. The old village of Residenzplatz is a good starting point as this is where you will find a majestic baroque palace. You can also climb to the Hohensalzburg Fortress to give you a gorgeous panoramic view of the city. After that, you can explore the Princes' Chambers, which is one of the best-preserved secular gothic buildings in Austria. 
Innsbruck
At the heart of the dramatic alpine landscape lies the forlornly beautiful city of Innsbruck. This city is often considered the skiing mecca because it is the best place for tourists who love winter sports. As such, you will find numerous ski resorts here, as well as the famed Bergisel Ski Jump. 
The streets of this quaint town are full of tales as old as time and cozy cafés. Innsbruck is also renowned for its Imperial and modern architecture. One famous example of this is the Nordkette funicular designed by architect Zaha Hadid. Its futuristic stations climb up to 2,256 meters from the city center, and it is a popular spot for skiing in winter and hiking or mountaineering in summer. You can take the Nordkette cable car and ascend to the largest nature park in Austria, which offers unparalleled views of Austria's unspoiled beauty.