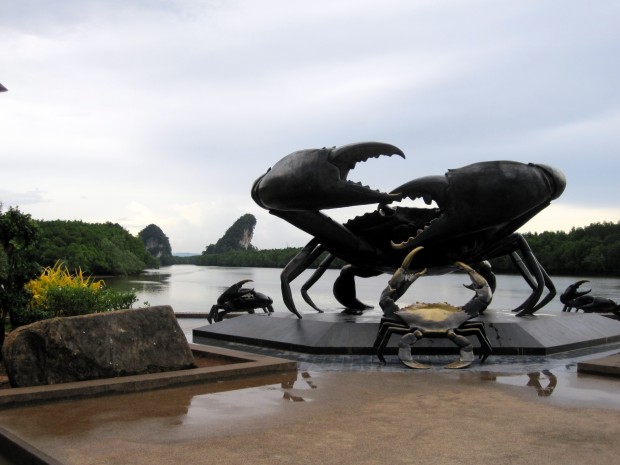 After thoroughly enjoying northern Thailand for a few weeks, I was given a sign from Allah when I crashed my motorcycle that it was probably time for me to slow things down and kick back in the south and let the sunshine heal my beer-battered body.
I decided to crack my Lonely Planet and instantly became overwhelmed reading about the million different islands with crazy names I could never remember (or pronounce), so I decided to just take my chances and book a direct flight form Chiang Mai to Phuket which would get me into the southern mix.
I had always seen pictures from the beaches in southern Thailand and heard about Phuket (I guess because it has an international airport), but after reading a little bit more, it seemed that Phuket Town itself was actually a slum and the nice beaches and islands were all just surrounding it.
So after arriving in Phuket, I decided to spend a few days at the beach town next door called Patong (absolutely insane place with more hookers than you could possibly count, ((or have sex with))(((unless you're a dirty old 60 year old from The States or UK))), I figured I better send myself somewhere a little more chill to let my foot heal up a bit and experience more of an authentic Thai town.
I did a bit more research and read about Krabi Town which was basically just straight across the bay (if that's what you would call it), or a 3 hour van ride which I opted for. Krabi Town is pretty small, but long. I know that doesn't make much sense, but it was basically a few north to south avenues with just some streets that shot off them for a couple blocks. so the best way to get around is to either rent a scooter or hail down a songthaew (public taxi).Here's a map of Krabi's layout so you see what I mean:
Many tourists fly into Krabi Town to spend a couple of days before heading off to Ao Nang Beach just 20 minutes away, Railay Beach (25 minutes by boat) or one of the islands like Koh  Phi Phi or Koh Lanta. I didn't have such plans at first as I couldn't get my foot wet so I wanted to spend some time just working and checking out Krabi Town more than the Average Joe.
I was surprised with Krabi as it was definitely pretty quirky but had a cool vibe. The street lights all paid homage to a few caves in the area where some remains of early humans were found as well as some other prehistoric beasts. It was a real provincial city with lots of stores that supplied things for building, a department store/mallish thing complete with a KFC and places to get motorcycles and cars fixed. It was nice to be in a place in Thailand without snarling traffic for a while, one where I wasn't heckled on the street for massages or a new suit every 10 steps.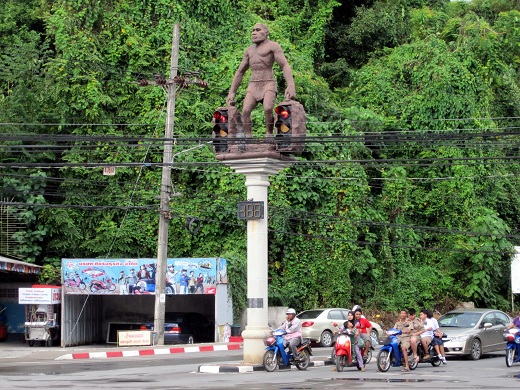 Krabi Town was also especially nice because it was dirt cheap, almost as cheap as Siem Reap in Cambodia. I once again was paying about $20 a night for my hotel, and the room was legit and right in the center of town. The hotel had free Wi-Fi and breakfast too. The location was ideal, right in front of the weekend night market which was an awesome place to eat street food and pick up some hand-made souvenirs. I also broke up a fist fight between two Thai girls that both bowed and thanked me after the fact, ridiculous.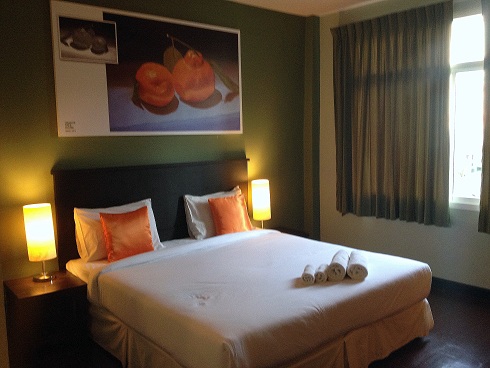 The town itself was pretty picturesque, especially by the waterfront where you could watch long-tail boats whisking people off to the nearby islands as well as the fisherman coming in to drop off their catches for the local markets and restaurants. One thing I noticed about Krabi Town that was different than other places in Thailand was the high number of Muslims. Supposedly the provinces just south of Krabi are primarily Muslim as they border much more Islamic Malaysia.
One other thing I desperately sought out in Krabi Town besides respite was a real western gym. The majority of rural places I had been in Thailand were pretty devoid of modern fitness equipment, so I was very presently surprised that The Thai Hotel a couple blocks from my own had a very decent one, and it was definitely the best gym in Krabi. Oh, and it only cost 1 USD to use and included a bottle of water! Just go into the lobby and ask where the gym is and they'll direct you.
The rest of my days in Krabi Town were spent working and chilling. There are a couple worthwhile things to do in Krabi, notably visiting the Tiger Temple and The Emerald Pool.
The Tiger Temple is only about a 10 minute ride outside of town by scooter. It is actually a little complex with a very impressive temple being constructed (not something you see every day), the actual Tiger Temple which is built into a cave (nothing special), and the real draw, another temple on top of the steep karst cliff right behind it that is over 1,000 steps up! I don't know what the hell I was thinking attempting the climb with a busted foot, but I couldn't resist and when I finally reached the top about an hour later, I wasn't disappointed. To really grasp how high up the cliff was, look at the picture of the temple being constructed from the ground, and then above!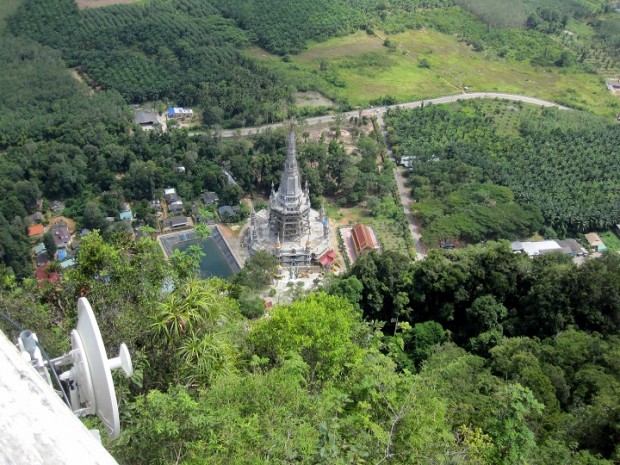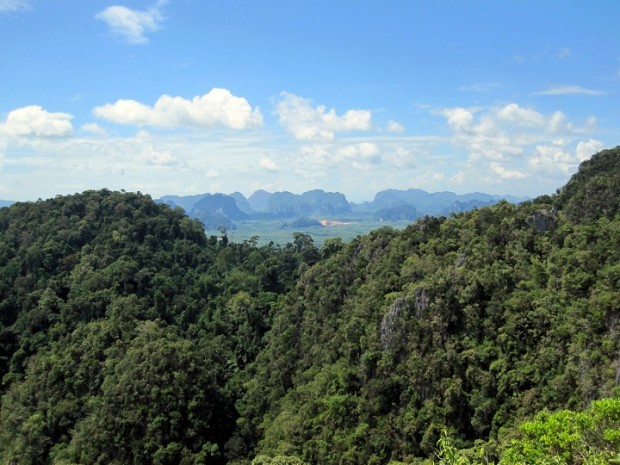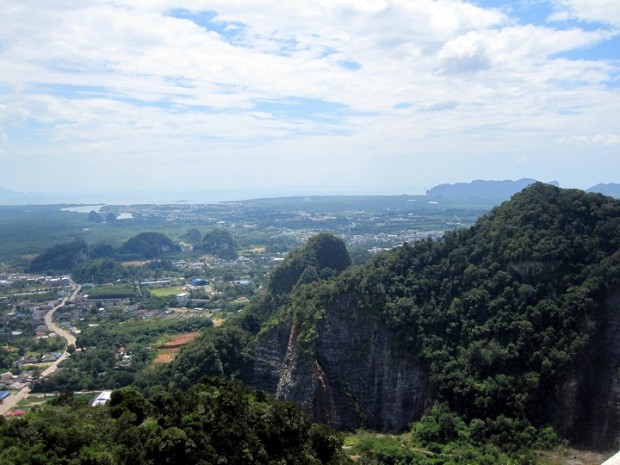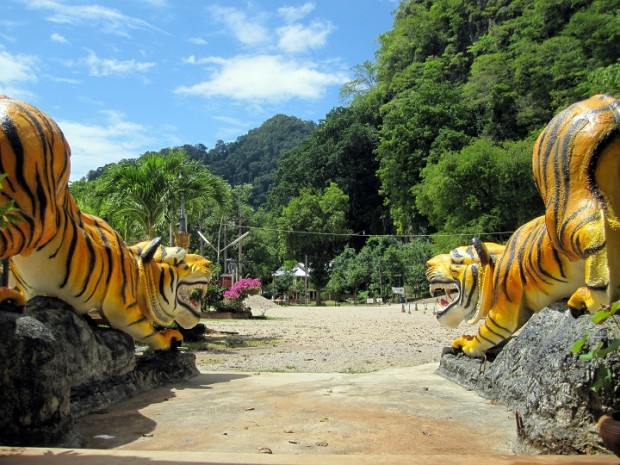 The Emerald Pool is a good way to spend a hot and sunny day, but it is way farther than any local tour guide or guide book will tell you. It's a solid hour journey hauling ass on a scooter in which you have to go on the main highway and then some back roads that are for the most part fine, but plagued with sporadic, monstrous pot holes that would ruin your day if you hit one.
Once you find the Emerald Pool (also confusingly listed on streets signs as Crystal Pool and Crystal Pond), you pay the entrance fee and then walk about a mile into the jungle to reach it. It's a nice walk and you get to see a lot of natural streams that run right through the forest floor that seem to change course frequently as there are no rock beds under them. Full-size trees grow right through the middle of the water too.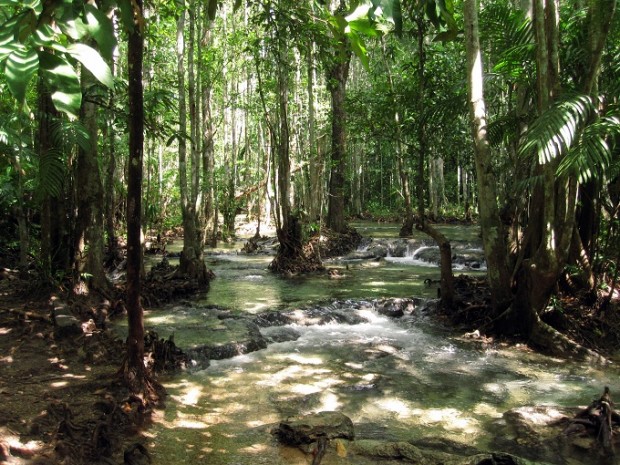 The Emerald Pool is the first natural pool you come to, and there are a few others farther own that are less crowded and not full of Thai tweens making out and fat Russian tourists slipping on the rocks and falling into the water (actually, that's worth watching!).
The water is a very unique blue that is the result of the high mineral deposits. Supposedly the pool has "magic restoring and healing powers", as claimed by every natural pool or hot spring around the world too. I did feel good after a dip, but I didn't feel my penis grow any larger or my abs get any tighter, so don't expect any miracles.
All in all, Krabi makes a good place to spend a few days if you need to get your life back in order, do some laundry, kick back and then head off to one of the many alluring islands or beaches that are located not so far away.