Looking for a budget-priced Miami hostel that's close to the beaches but far away from the crowds of loud tourists? Then set your sights on accommodations near these off-the-beaten-path beaches that have peaceful enclaves where you can unwind and relax however you like best — fishing in breezy atolls, exploring shoreline ecosystems or mastering water sports like kite boarding. While South Beach might be the place to see and be seen, Miami offers a wealth of alluring beaches that will make you melt into the sand and never want to go home.
North Shore Park Beach
During the day, this beach attracts families who enjoy the comforts of the surrounding picturesque park dotted with big shady trees, barbeque pits and picnic tables. Kids can enter programs offered by the North Shore Recreational Center at 501 72nd Street that uses the surrounding natural habitat as a schoolroom. After sunset, the beach gets empties out, but on full moon evenings, spontaneous drum circles form in the soft sand that's perfect for unabashed dancing.
Sunny Isles/Golden Beach
This section of Miami-Dade County is known as The Venice of America because of the interconnecting bridges, canals and intercoastal waterway, but there's a noticeable culture gap between the multi-racial diversity of Sunny Isles and the upscale tone of Golden Beach. As it turns out, you can set out walking south along the Sunny Isles beach and stroll along until you find yourself on the exclusive private beaches that flank the mansions of Golden Beach. Celebrities like Eric Clapton and Bill Gates own these homes so don't be surprised if you're asked to leave.
Matheson Hammock Park Beach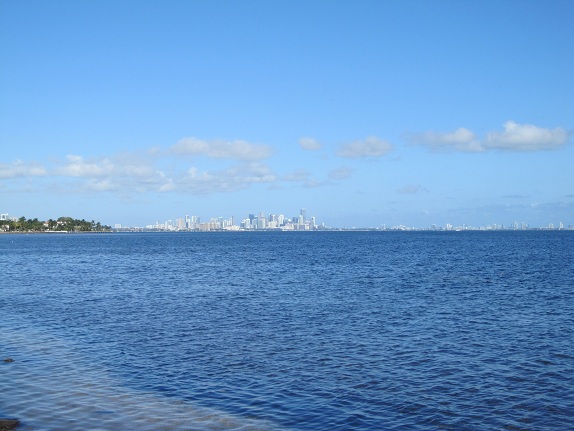 Though not actually on the ocean, this 630-acre natural park contains a man-made atoll pool in Coral Gables that boasts excellent fishing and a refreshing sea breeze that makes the shoreline a superb location for picnics and barbeques. Coral stone buildings house a snack bar and restaurant while the on-site marina has a fishing tackle shop, fueling station and boat launch ramps. Right next door is the Fairchild Tropical Botanic Garden and a short hike across the R. Hardy Matheson County Preserve brings you to the Montgomery Botanical Center that conserves rare species of palms and cycads.
Crandon Park Beach
If your ideal day at the beach involves getting back to nature, you'll be delighted with this eco-adventure park on Key Biscayne that encourages visitors to connect with the great outdoors. Boardwalks from the Nature Center at 66747 Crandon Boulevard lead to fossilized reefs, butterfly colonies and twisted mangrove forests. The 2-mile beach fronts a calm lagoon with low surf impact, making it appealing to kite surfers and kayakers who take advantage of the gentle winds and sedate waves to sharpen their skills. Equipment rentals and guided tram tours of Bear Cut Preserve are available from sunrise to sunset, seven days a week.
Hollywood North Beach
Further north from the glitzy Hollywood Beach and just south of Dania Beach at 4800 North Ocean Drive is a rather forgotten little stretch of beach that has no shops, restaurants or rental kiosks – it's just sand and surf and sunshine. Usually deserted on the weekdays, this quiet stretch of coastline ironically nicknamed Dog Beach of Hollywood is also home to a successful feral cat colony, so you might encounter some curious stares from the feline residents. A sweet little bike trail runs alongside the sandy beach and there's plenty of parking with easy access to the shoreline and bus stops on both sides of Ocean Avenue. Pack your own picnic and after lunch stretch your legs on an invigorating walk to the wharf at the end of North Beach Road.
Check out the locations of budget-priced Miami accommodation at Hostelbookers.com, the budget travel specialists.