Times Square is home to one of the most electrifying atmospheres not only in the USA, but the entire world, with countless attractions and points of interest within a few minutes' walk, and that means hotel rooms near this iconic landmark are some of the most desirable in the city. Travelers who do splurge on these premium stays expect unique amenities to distinguish their stay from a night anywhere else in the world, and these 3 options let visitors experience New York from an entirely unique angle. Here's where to stay in Times Square for a the most memorable experience.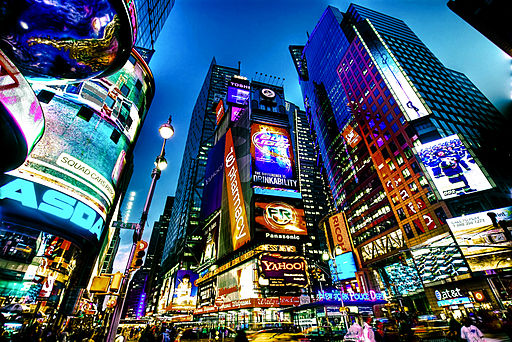 Langham Place
This Midtown Manhattan NYC hotel is situated on Fifth Avenue, making it convenient to Times Square as well as the legendary shopping district. Its fully appointed rooms feature espresso makers, iPod docking stations and mirror-mounted TVs as well as available in-room spa treatments, but the Langham's most famous feature is Al Fiori, a restaurant known for its world-class Italian cuisine. Guests can also enjoy complimentary transport in a Maserati luxury car during their stay.
Kitano New York
The strong Japanese influence of this beautiful New York hotel is its most distinguishing feature, with its onsite gourmet restaurant Hakubai serving Japanese cuisine to travelers at lunch and dinner. Guests are greeted for their stay with traditional dressing gowns and slippers, and the hotel also offers a range of guest services from car rental to a babysitting service. Indeed, every aspect of the guest experience has been thoroughly considered, from the custom Eastern decor that graces each room to the heated Japanese-style toilets that ensure every moment at the hotel is spent in the utmost comfort.
Tryp Times Square
Tryp Times Square was once a humble Best Western hotel, undergoing a full scale renovation in early fall 2009 to become one of the trendiest hotels in Times Square. This hotel is known as much for its relatively low prices as its eclectic décor, boasting some of the most updated amenities and lowest prices in the area, and every room features a new flat-screen TV and other appliances to reflect its recent rebirth. Tryp even features a rooftop terrace to allow guest to take in the sights and sounds of the city from above.
Many visitors to New York fail to even consider the Times Square area as a possibility for accommodation, fearing the overly loud presentation might drown out the local culture. However, the boutique hotel revolution gives travelers options beyond the chain hotel, making their stay inside the room almost as compelling as their stay outside of it.