After deciding Bangkok was too nutso for me, I headed to the north of Thailand to explore the region, and my first stop was Chiang Mai. While it's the 2nd largest city in Thailand, it is shockingly more calm, easy to get around and just exudes a way different vibe than bustling Bangkok. And when I wanted to take my chillaxing to the next degree, I was told about a place called Pai from some other travelers, just a short 3 hour ride northwest of Chiang Mai.
So, instead of opting for the 150 baht minibus there (5 bucks), I channeled my inner Ché and rented a motorcycle to head for the hills, literally.
I wanted to rent a bigger motorcycle, and when I mean big, I only mean 200cc (smaller than anything you will see stateside). But, my judgement has finally begun to kick in at 25 years old, and I decided, I probably shouldn't go bigger until I, you know, actually first ride a bike with a real clutch on a flat surface instead of windy ass mountain roads (I still ate shit, read on).
I packed a backpack, strapped it to the seat of my piglet (it sure as hell was no hog), left half my clothes with the motorcycle shop, and set out.
The ride was stunning as I rode north from Chiang Mai through a valley, but then headed west through some rolling foothills, until I met the beginning of the mountains.
As much as the woman at the motorcycle place insisted, "It no rainy season now", I knew I didn't believe her, and I found out the hard way. About halfway through my trip, the sky started to turn dark, and then furiously opened up, leaving me completely soaked.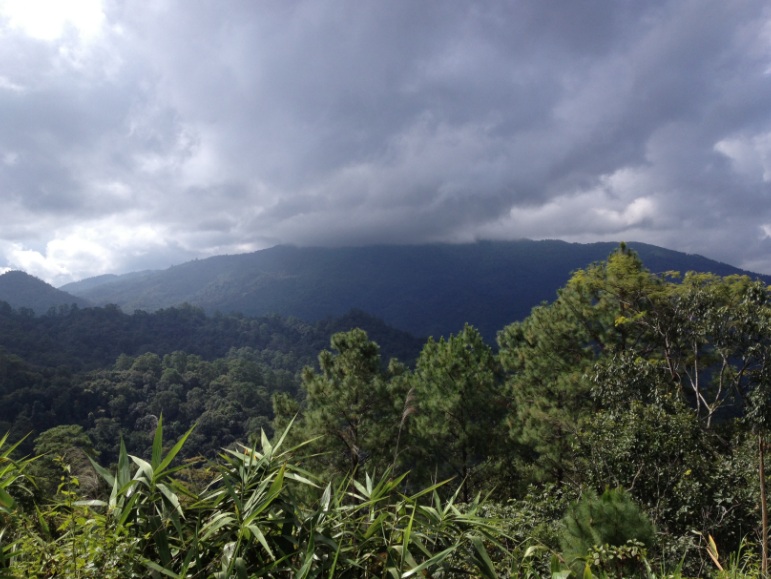 I huddled under a fledgling sapling for about 30 minutes praying the rain would stop, but it didn't,  so I was forced to strap my rain coat over my bag so my computer wouldn't get wet, and I pushed on. I drove past a little roadside shop that thankfully sold ponchos, but just my luck, the only one left was a hot pink one that extended all the way down to my feet. I put it on, and about an hour later, I was putting into Pai. I got a lot of smiles, not for my devilishly good looks, but clearly my ridiculous get up (sorry too embarrassed to ask someone to take a picture of me!)
After checking into my bungalow, I took a shower and enjoyed the sunset from my rooftop deck. I stayed at The Counryside at Pai which was a bit pricier than a lot of the other accommodation options (shit, it was till less than 20 dollars a night), but I thought I needed air conditioning, which in reality, didn't go on once my whole time there because at night it's cool. Book a fan room if you decide to go to Pai.
Everything everyone told me about Pai was true. It is a quaint little hippie/rasta town nestled in the mountains with stunning vistas at every turn. I often felt like I was in Middle-earth rather than Thailand. The town center is comprised of just a few streets, but there is a wealth of good restaurants, fun bars, chill bars, coffee houses, and believe it or not, three 7-11s!
There are some  cool things to do in Pai during the day like visiting an elephant camp, checking out the memorial bridge (built by the Japanese in WWII), and hiking around Pai Canyon (not really a canyon, but definitely worth a visit for some pics, just wear shoes as it is crazily narrow in some parts).
But, the place I spent the lion share of my time was a little hangout called Fluid. While it doesn't have a website (dumb), most people in town can tell you where it is just outside the center. What is it exactly you ask? A veritable pool club that only costs 60 baht (2 bucks) for the entire day. They have a massive pool you can do laps and chill in, good music playing, a gym (it's just some weights and old machines, but it's the only gym in Pai I could find), ping pong, Wi-Fi, bomb food, and plenty of ice cold beers. I highly recommend you check it out.
I only planned to spend two nights in Pai, but I was swooned by the ultra-relaxed vibe, nice people, amazing landscapes, good food, and fun night life that I ended up staying for five nights, and I would have stayed even longer if I didn't rent my motorbike in Chiang Mai. The other reason I came back a bit early was, I did what too many dumb tourists do in Thailand, crashed on my motorcycle.
While I had a few beers, I definitely wasn't drunk, but my hotel was located on a dark, pot-hole ridden, dirt road. I was coming home at night and I was going a little too fast when I hit some gravel around a turn and, boom, down went daddy.
After falling, I shot right back up to see if anyone witnessed my embarrassing folly, but obviously, there wasn't anyone around, phew. I felt alright at first, but that was just the adrenaline taking over and after I got back to my room, I saw the damage done. I scraped up my foot, leg and arm pretty bad.
I went to the hospital the next morning to have a thorough cleaning, but it was a four hour wait so I just went to the pharmacy and asked the guy to give me everything I needed. I stayed one more night in Pai and then grudgingly packed up my bike to head for Chiang Mai to recoup a bit more before heading down to the beaches.
All in all, Pai is one of the best places I've been in Thailand, and the world for that matter. I don't even care I got hurt because I had such a relaxing time there, that it's allllll good mannnnn.