For many people, there is no better way to experience the spirit of America than to take to the outdoors.  For these folks, this not only includes outdoor activities such as hiking, but also camping, where this group of people spend a night in this environment with little other than a thin layer of nylon separating them from the elements.
For those that are well attuned to the outdoors, this may not be a problem, but for those that take exception to sleeping on the ground with nothing but a sleeping bag between them and chilly evening air, these realities have long driven them away from spending time deep within some of America's best natural environments.
Recently though, a luxury niche has opened up in this space, as glamping has become an emerging trend in recent years.  This accommodation option is rustic enough to allow comfort-minded individuals to seek out an outdoors experience that is markedly different than staying in a hotel, while having features that permit its occupants to have a peaceful night's sleep in a comfortable, warm and subtly stylized space.
The following three spots to go glamping in the USA will grant you a comfortable home base in the middle of some of the best natural scenery that America has to offer.  Let's dive right into it, starting with…
1) The Ranch at Rock Creek, Philipsburg, Montana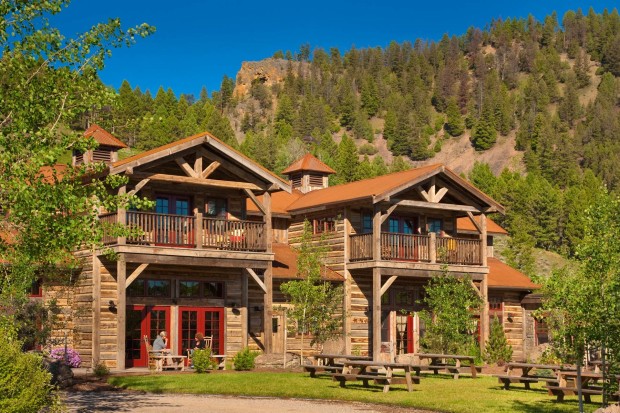 Situated alongside the John Long Mountains in the rugged reaches of Western Montana, The Ranch at Rock Creek is a former cattle ranch. Transformed after 2007 into a wilderness resort, The Ranch at Rock Creek focuses on delivering the Montanan experience with a touch of luxury.
Offering activities that include horseback riding, fly fishing, and even clay shooting, the glamping experience provides wood stoves, luxurious bathrooms, and plush beds. With these amenities, it is no wonder that The Ranch at Rock Creek recently won Forbes 5-star Travel Guide award, regarded as one of the highest honors in the hospitality industry.

2) El Capitan Canyon, near Santa Barbara, California
Located minutes outside of Santa Barbara, El Capitan Canyon is an ideal recharging spot for heavily stressed professionals living and working inside the pressure cooker that is Los Angeles.  The property is set amongst rolling hills between the Pacific Ocean and the dense woods of Los Padres National Forest.
Options are available for all budgets, from yurts that offer a comfortable bed, ceiling fan and mini-fridge, to the Safari Cabin Suite, which comes decked out with a BBQ grill, fireplaces, bedrooms, a bathroom, and a common room that all have a vein of luxury running through them all.
3) Bay Leaf Cottages, Lincolnville, Maine
On the east coast, Maine is widely considered to be one of America's beloved vacation destinations, and the impressiveness of its rugged seashore and mountains bears this out. Bay Leaf Cottages, situated along a classic stretch of Maine's Atlantic coast near Lincolnville, gives you a true taste of this state's essence, with many activities available in the area.
Activities include mountain biking, sailing, and sea kayaking along this state's heavily indented coast. For those that want to get into exploring one of America's finest natural environment's east of the Mississippi, Acadia National Park is within easy driving distance. The cottages on-site offer a kitchenette for culinary impresarios, while a continental breakfast keeps you from having to slave over the stove while you are still groggy in the early hours of the day.
This post was sponsored by Rock Creek Ranch