Everyone knows how Madrid magnetizes millions of visitors with charming flamenco sound and exotic dance moves. Luckily, whether it's more rock, pop, indie or funky, the capital offers a huge array of pubs, clubs, halls, or whatever you prefer to call to satisfy your musical preferences.
In this post, we will present to you rock and roll places where you should expect the real feeling of the genre with a bit of alternative and hardcore vibe when you travel to Madrid.
In order not to overwhelm you with information but not forget anything important. The list below consists of the most recommended rock and roll places in Madrid with considering factors such as the quality of the bands, acoustics of the premises, location or clientele, among others.
These places will be an ideal stop for every men's night out in Madrid and not to mention all the possibilities for a rock and roll bachelor party.
Honky Tonk
I start with the bar more often trodden in my Madrid nightlifer. Frequently open from Monday through Saturday and every day they offer live music with double sessions on weekends. Tribute groups play mashups with national bangers. Although rock n 'roll is the protagonist, pop, indie or funky always have a place in this legendary club.
This place also has two stages. The plant at street level is the right place to chat quietly listening mainly to the classics, while at the bottom is where everything is cooked concerts.
Entry price:  free
Location:  Chamberí – Bilbao
Bonsu Tip: Although you always find some spot here to stay, don't be too late for the performances. Three large columns on the ground floor make it difficult to see the stage in some areas.
Thundercat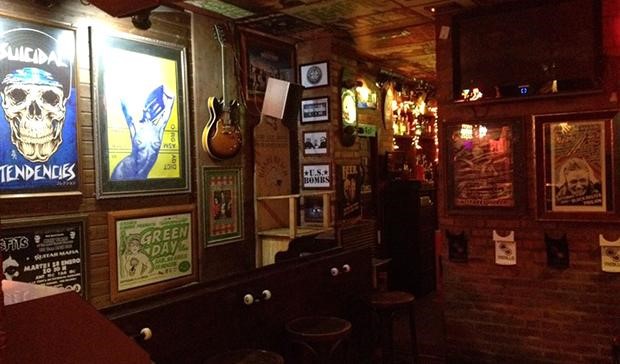 Within Thundercat walls, they have managed to create a powerful brand image that breathes rock n roll on all four sides. For everyone looking to hear the authentic crispy sound of classic tube amps with some dirty riffing through the night, there is hardly a better place than this one.
Initially, pictures of KISS, David Bowie, Jimmy Hendrix or The Doors adorned its walls under natural reddish lighting. Subsequently, the club made a quality leap with a beautiful integral reform with a distinctive leopard carpet.
Its week begins with great jam sessions on Thursdays and continues with two concerts on Friday and Saturday.
Once the live music ends at 02.00 AM, the bar finishes completing its capacity by organizing a respectable queue outside.
Entry price:  free – from € 3
Location:  Alonso Martínez
Bonus Tip: If you go to the show, stay at the bottom on the left, in the area closest to the stage. You will enjoy the excellent view in addition to the comfort of not having to move every time you want to have a snack.
The Monkey
Nestled in the outskirts of the Puerta de Toledo, The Monkey emerges as an alternative rock hotspot if you go around the La Latina area and want to continue banging your head. The club consists of an excellent open part, which makes it an appropriate space for live music.
But beyond the genuine bands that gather from Thursday to Friday, the club also offers attractive leisure proposals such as comic monologues, storytellers or poetry and live painting meetings.
Entry price:  free – from € 5
Location:  Puerta de Toledo
Bonus Tip: If this bar convinces you to come back more often, then take out your 'Monkey Card.' It is free, and they make you offers and discounts on drinks.
Moby Dick
Its quarter-century tradition endorses this place as one of the iconic concert halls in Madrid. In its careful and original industrial decoration, marine and nautical themes mix with electric guitars hanging on its walls.
While the three previous rock bars copy the agenda of each other, Moby Dick raises the bar in authenticity and program. In its programming, you will recognize prestigious artists that may well be in your Spotify or Apple Music collection.
Therefore, the prices of the tickets vary greatly. Besides, it is common to find theme parties, musical competitions, or comic performances.
Entry price: from € 6
Location:  Cuzco
Bonus Tip: It has a fast food cooking service. If you arrive in a hurry to a concert and you have not had time for dinner, for a reasonable price you have a Rock Menu.
Wurlitzer Ballroom
Open every day of the week, and its garage-style makes it the most alternative on the list. More than versions, its live performance sheet bets on original rock groups and all its variants. Therefore, you will see that the Wurlitzer is an ideal place to discover new bands of the national scene.
The sound quality in the club is more than acceptable, and the club is getting renovated at the moment. You should know that of the five proposed clubs in this list; this is the one with a younger clientele, more twenty years old rockers than thirty visit this place.
Entry price:  from € 5
Location:  Gran Vía
Bonus Tip:  If you decide to visit it on the weekend, we advise that you do it during concert hours. After 3.00 AM, you may be waiting for longer outside than in the club.
In Conclusion
Apart from these five, there are other fantastic places with live rock performances such as the Costello Club, La Boca del Lobo or La Fontana de Oro, among others.
All you have to do is grab yourself a beer with your pals and stroll around this beautiful city that may not be so famous for rock and roll, but undoubtedly present numerous opportunities to headbang all night like never before.