When you're planning a tour of America, a great place to look for inspiration is Hollywood.
For trips to San Francisco watch Anchorman, for jaunts to New York sit down with a box of popcorn in front of The Great Gatsby and for a hair-raising tour around Los Angeles, dig out your Speed VHS.
However, if Las Vegas is your destination there's really only one series of films that you need to revisit: The Hangover.
The stag party-themed trilogy features many scenes in Sin City, where the 'Wolfpack' of four friends – Stu Price, Phil Wenneck, Alan Garner and Doug Billings – engage in a farcical series of debauched and wild events involving exotic animals, Mike Tyson and plenty of booze.
While it's perhaps not advisable to do exactly as the Wolfpack does during your time in Las Vegas, you can certainly use the films as inspiration for some wild nights of your own.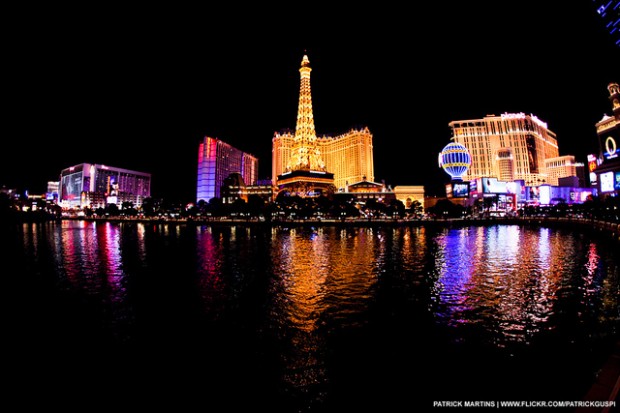 Caesars Palace
This legendary hotel on the strip, a mammoth construction consisting of nearly 4,000 rooms, features prominently in the films.
In the first movie it is the location where the foursome stay for Doug's bachelor party and in the third installment, the characters attempt to rappel down the outside of the hotel using bed sheets.
Although abseiling is out of the question, you can certainly have plenty of fun at Caesars Palace, thanks to its numerous stylish bars and lounges, a range of swanky swimming pools – swim-up blackjack anyone? – and an action-packed casino. It really is an all-day destination and the epitome of all things Vegas.
Bellagio
Another of Sin City's iconic hotels and casinos, the Bellagio's enormous dancing fountains are featured in The Hangover's opening scenes.
It's a pretty awe-inspiring site to watch the Fountains of Bellagio display, featuring 1,200 nozzles and 4,500 lights all coordinated to classic tunes such as 'Viva Las Vegas'.
But in true The Hangover style, it would be rude not to step inside and indulge in a bit of gambling. Hopefully, like Doug, you'll have some chips left in your pocket at the end of the night, but with the Bellagio known as 'The Office' to many of the seasoned poker pros who call it home, you could be in for an expensive evening.
Wedding chapel
In the first film, Stu ties the knot with a stripper called Jade at the Best Little Wedding Chapel. While this is a fictional location, there's plenty of real wedding chapels you can visit in Vegas where hundreds of couples participate in ad-hoc ceremonies each year.
One of the best-known is the Little White Wedding Chapel – featuring a Drive Thru Tunnel of Love – where many celebrities have tied the knot. Follow in the footsteps of Michael Jordan, Pamela Anderson and Britney Spears … or maybe not. After all, what would your mum say?
The Hangover
After a day and night spent visiting these film sets, you'll no doubt have a bit of a hangover yourself. Unsurprisingly, Vegas has made allowances for this, so if you can drag yourself out of bed, you'll find plenty of places where you can indulge in an all-you-can-eat buffet pick-me-up.
One of the best is found at the Wynn, where breakfast is served from 8am. The Buffet room has 15 live-action cooking stations and food from all over the world.