The top reasons to visit The United Arab Emirates are many. Unlike other Arab countries, the United Arab Emirates has a very friendly relationship with foreigners and even share a long history with them. Ever since 5,500 BC, Arab people in these regions have traded with merchants from Mesopotamia as soon as they were able to domesticate camels for long distance travels. During the first century AD, the coastal land of the United Arab Emirates encountered its first maritime trade with China and India. But all its ancient wealth can never surpass its 20th century prosperity with the beginning of its oil industry in the 1950's. The United Arab Emirates remain one of the richest, if not the richest, country in the entire Middle East and this makes it a unique place to enjoy a luxury vacation. Check out these 4 reasons why to visit the UAE!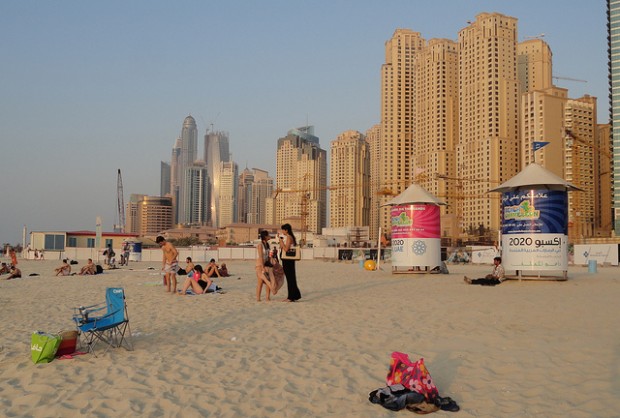 1. The Magnificence of Palm Jumeira and World Islands
The Palm Jumeira and World Islands remains to be the most spectacular man-made island group in the world. It's shaped into a date palm tree along the coast of Dubai. Being the first thing travelers could see from an airplane before landing, it is not surprising to consider it the first destination right after the airport.
2. Commerce: High end shopping malls or budget souks?
There are two commercial outlets that travelers can choose from for shopping. High-end and modern shopping malls which are easily found throughout all of United Arab Emirates, or, more traditional outlets like the Gold Souk and Spice Souk which offer an authentic look at what markets used to look like in the UAE.
3. Camels… Anyone can love these adorable creatures
Although the United Arab Emirates is not famous for their zoos, they are famous for their countless camel sanctuaries.. Al Ain's Camel Farm is a place to see camels and exciting camel races. Definitely visit one of these if you're in the UAE!
4. The journey to Buraimi Oasis
One of the most popular top reasons to visit United Arab Emirates is the day trip package to Buraimi Oasis. It is an excellent venue to experience excellent fresh foods. Sweet bananas, fresh dates and bottles of pure honey are just among the delicacies travelers can buy from the many souks. Buraimi Oasis is easily reachable by most major cities in the UAE, but check out the Emirates Palace Hotel in Abu Dhabi for easy access to Buraimi Oasis and comfortable place to return home to after.