Finnish Lapland conjures images of wide-open spaces, frozen lakes, and the snow-laden boughs of graceful conifers, lit by the flickering colors of the Northern lights. Lapland's snowy landscapes are the perfect setting for a host of activities. Whether you want to do sport or are heading there to see Santa, or do both, on your holiday to Lapland, you need to think carefully when planning your holiday to Lapland. From December to March is the perfect time for all winter sports, and snowmobiling is one of the most popular adventure activities.
You can go on an adventure safari by snowmobile, travelling along the courses of frozen rivers and through the snow-bound forests, to lakes where you can try your luck at ice-fishing. Once you have a feel for your snowmobile — and learnt where the button for the heated handlebar switch is – you'll get the maximum adrenaline rush by daring to drive at up to 60 kph across the ice of a frozen lake. Alternatively, you can go off-piste through deep, new snow, and learn the skill of driving on one ski and other tricks.

Winter sledging is a sport that's not for the faint of heart, and is definitely a way of life in northern Finland. You take a chairlift to the top of the fells, then sledge downhill at incredible speed. Sledging is not as dangerous as it looks: the sledge runs are purpose-built, and the sledges do have brakes! Lapland is also home to some excellent skiing, both downhill and cross-country, and snowboarding continues to grow in popularity. Ice climbing in gorges and frozen waterfalls makes an unforgettable experience for intrepid holidaymakers. Guided climbs with qualified instructors are available for the less experienced.
During Lapland's summer, there's no need to miss out on the thrill of extreme sports; climbing and abseiling continue on conventional rock faces. You can also experience the rush of downhill mountain biking, and summer sledging is a thrilling experience for the whole family. White-water rafting is another adventure everyone can enjoy.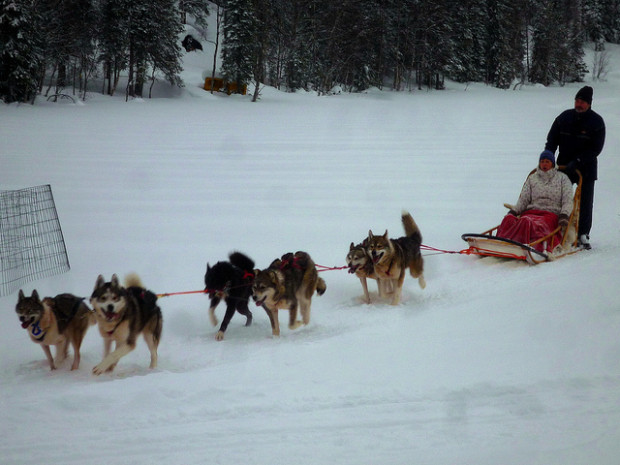 Perhaps the ultimate extreme sports experience is a winter husky safari into the Arctic. A team of huskies pulls your two-person sled and you "Mush" your way across the silent beauty of the tundra through the twilight zone of the Lapland winter. You may try ice-fishing, or forage for your supper from the wild, before settling down for the night in a traditional wooden lodge. A husky Arctic safari is an unmissable chance to appreciate the traditional Lapp way of life.
If you still can't enough adventure, you can always head over to see Santa and find out he's doing. Then when you get back home, as well as tell all your friends about your adventures on the snow, you can say you're up to date with events in the run-up to Christmas. That's a thrill in itself!