Every time I come back to Philly, I always try and play tourist at least a little. Given I'm from the "City of Brotherly Love", I've become a little desensitized to some of the things I grew up visiting as a kid. Ever since I've been living in Miami, it's been nice coming back to Philly with fresh eyes and a new perspective on my hometown. This week, I visited one of the coolest places in Philadelphia, and definitely one of the most interesting touristic attractions I've been to the world over, Eastern State Penitentiary.
Opening its doors in 1829, Eastern State is widely agreed upon to be the world's first true penitentiary, where "penitence" was the key message instead of solely just punishment. Spiritual reflection and  reform was focused on in an attempt to rehabilitate hardened criminals rather than lock them in a dungeon with no key.
The was a tourist attraction even back in the 1800's and visitors were allowed to tour the halls and even speak to prisoners! But, prisoners couldn't have any personal guests themselves (meh I guess any visitor is better than no visitor!). Al Capone even spent some time at Eastern State in 1929 and his cell didn't look half bad if you ask me…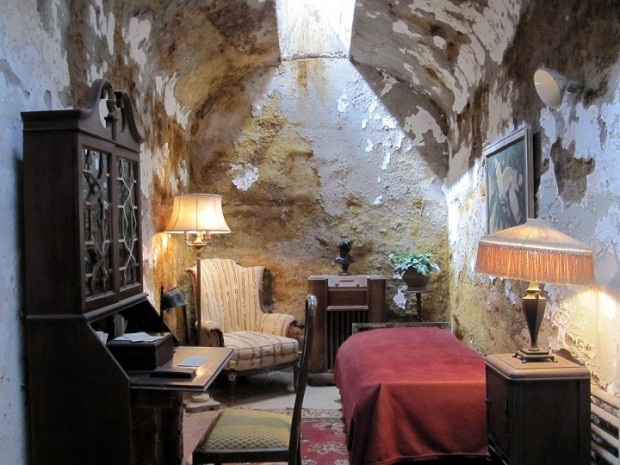 The halls of the prison were said to resemble a church, and the design of the small cell doors had multiple purposes including minimizing attack on guards as well as to force inmates to "bow" as they exited their cells.
From the outside, the prison looks like a medieval castle, a bit out of place as today it's surrounded by an urban residential neighborhood!
The design of the penitentiary was revolutionary and at the time of its construction, was the most expensive project in the entire country. Known as a hub-and-spoke design, the prison consisted of 15 cell blocks (by the time it closed in 1970) that all came off of a central surveillance tower. If you stand inside the central tower, you can spin around 360 degrees and look down each cell block. The exterior walls rise to an impressive 30 feet tall and are 8 feet thick.
If you find yourself in Philadelphia, then definitely don't miss Eastern State Penitentiary, it's a winner!