While everyone enjoys the summertime and the ample opportunities it offers to get outdoors and exercise, the truth is that sometimes the heat, humidity, and smog can be too much. Now that fall weather is around the corner, many people are getting excited about the new opportunities to get out into the great outdoors and experience the changing of the season. Below are three of our favourite fall activities to get you outside.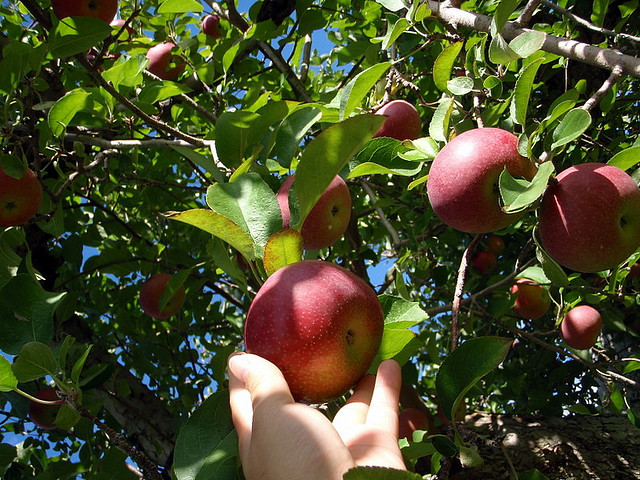 Go Apple Picking
Why not channel your inner Robert Frost and get out to the orchard to do some good old-fashioned apple-picking? What could possibly be better than candy apples, apple crumble, and apple pie made with fresh, crisp apples you just picked yourself. Wherever you live, there are a number of orchards not far away, and if you're bringing the kids, many orchards also offer a host of additional Family Activities, such as wagon rides, country fresh markets, and even petting zoos to help take in the experience. Be sure to bundle up — especially in October and November. Wear layers, so that you can remove them one at a time, as needed, and consider thermal underpants (also called Long Johns) or maybe get yourself a pair of dependable thermal socks (available online through retailers such as Heat Holders and others)!
Haunted Walks, Houses, and Mazes
Nothing says autumn like ghosts and goblins, and everyone knows that this is the perfect time to enjoy a haunted walk, haunted house or a haunted maze. Thrill seekers can enjoy any number of haunted attractions, and many of them are closer than you might think. If there is an amusement park in your town, chances are good that there are many haunted house options and maybe even if you're lucky a haunted maze. This is perfect for a date night.
If you want to learn as you burn (calories, that is), consider a haunted walk tour. If you live in the Great White North, consider Toronto's original Haunted Walk, where you will hear spine-tingling tales from the earliest days of the city that include haunted theatres, unsolved murders, hangings, and other terrifying encounters. You'll enjoy learning about the old military town of York and how it became the metropolitan city of today. Book your spot to this popular haunted tour quickly, however, because it fills up fast.
If you live in the Big Apple, satisfy your inner horror fan with Sidewalk, the free app that will help you navigate through many of New York's most hair-raising neighbourhoods. Thanks to GPS technology, combined with vivid storytelling and a rich atmosphere, you can explore 400 years of dastardly deeds as sidewalk guide Damien takes you through the sinister history of Greenwich's haunted taverns, spooky churches, and public parks that have been unearthed by undead hordes.
Consider a Brisk Hike
Everyone loves a good hike, and in the autumn many cold climate areas of North America are awash in reds, yellows, and oranges of the season, and it's usually quite a sight. Enjoy the fall colours at a park close to home or take a quick drive from the city to a beautiful nearby hiking trail.
Hiking is a great way to meet your fitness goals, and one hour of trekking alone can burn well over 500 calories, depending on the pack you're carrying and the incline you're walking. Hiking doesn't just increase fitness, but overall well-being. Hiking is a social activity, and a regular weekend meet up with friends can help you forge bonds while you get fit. Interaction with a larger hiking community also encourages you to treat your workout as a lifestyle, and not simply a chore. This will make you stick with the regimen for the long haul.
If you want to get out this fall, consider one of these activities to help make the most of the season — after all, you don't need sunshine and hot weather to enjoy the great outdoors.